Our very first downloadable PDF pattern is now available!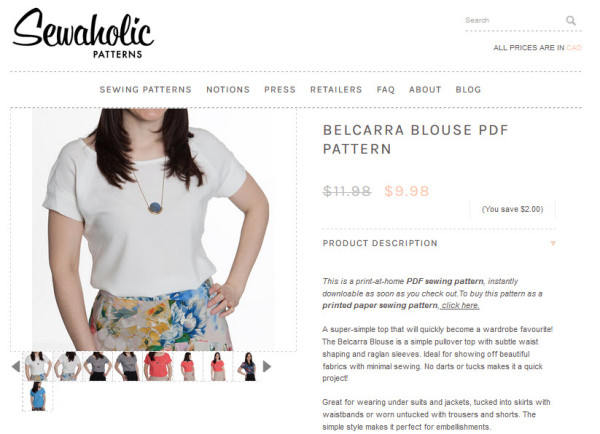 We've turned the Belcarra Blouse pattern into an instantly downloadable PDF pattern. Many of you requested it in the Belcarra announcement post, which meant this was the perfect time to finally give it a go. We're excited to try offering a PDF pattern and see what the response is like.
We figure there are two camps of PDF customers: those who will only buy PDF patterns, and those that will buy PDF patterns if it's the only choice. Personally, we'd only buy a PDF pattern if it was the only option to get that design. But we're not everyone, since we regularly get questions on when we'll have PDF patterns to buy. We understand the thrill of instant gratification and I like the idea of reducing the packaging and gas involved in shipping patterns.
We finally have the two things that were missing to be able to offer PDFs: the e-commerce functionality, and the skill to create a properly tiled PDF. One of the reasons we launched the new webstore in November last year was because it had the capability to offer PDF patterns.
We're really proud of our first PDF pattern. It's divided into different files for cutting layouts, instructions, and pattern pieces, so you can skip the parts you don't want to print. The pattern pieces include a guide to printing only the pieces you need for the view you plan to make. The checkout system is quick and easy, you'll have access to your pattern instantly. Once purchased, PDF patterns stay in your account forever, and can be downloaded as many times as you want.
If you have any questions, let us know. Or read PDF FAQs here. We added a ton of Q&A relating to PDF patterns to the FAQ page, let us know if there's anything you think we've missed!